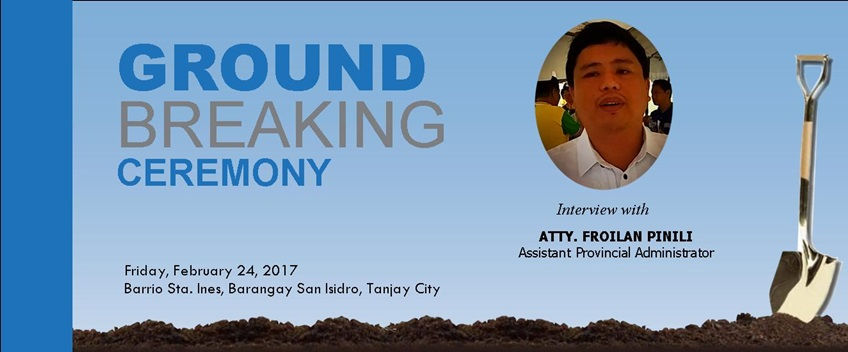 Atty. Froilan Pinili Interview [TRANSCRIPT] During The CEA Groundbreaking Ceremony
Date: 25 Feb, 2017
No Comments
Full transcript of our interview (watch video below) with Atty. Froilan Pinili, Assistant Provincial Administrator of the Province of Negros Oriental, during the groundbreaking ceremony for the first of four children's homes planned inside the Casa Esperanza of Angels orphanage facility, last February 24, 2017.
ATTY. FROILAN PINILI: The inauguration of this Casa Esperanza of Angels is very much welcome on the part of the province because under the law, it is mandated that every local government unit should allocate one percent of the budget for the Local Council for the Protection of Children.
As of now, we are still finalizing and in fact, gathering [information], making a program on how to spend this budget.
Once Casa Esperanza of Angels will be established, then we are looking forward to partner with Casa Esperanza so that the funds of the province will also be fully utilized.

Now, it is not just beneficial to one party but both parties – the province and Casa Esperanza of Angels – because, on the part of the province, we are also graded on how we spend the funds and what are the programs we came up [with] and with this, surely, our grades will rise.
On the part of Casa Esperanza, they will also be instrumental in helping the children who are homeless and ultimately, the beneficiary here really is the … children especially those in the province of Negros Oriental.
All you need to do is to coordinate, you can write a letter to the Office of the Governor so that it will be included in the agenda of the meetings of the Local Council for the Protection of Children.
In addition to that, according to the Vice-Governor, because it is the legislative department of the provincial government that accredits non-government organizations or institutions (service organizations), once accredited by the Sanguniang Panlalawigan, they can also be beneficiaries of projects other than those that I mentioned under the Local Council for the Protection of Children.