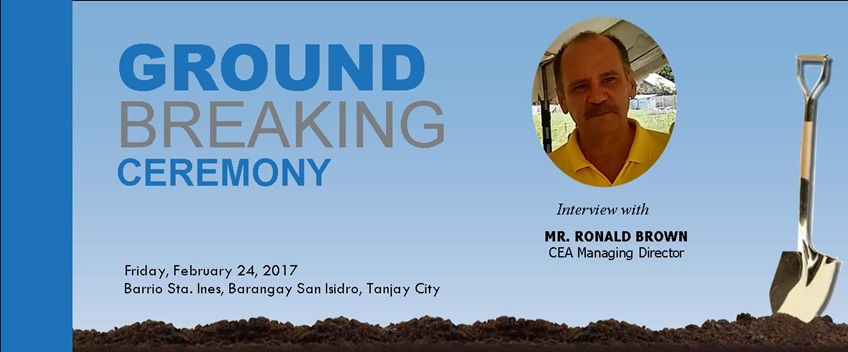 CEA Managing Director Ronald Brown Interview [Full TRANSCRIPT] at the Groundbreaking Ceremony
Date: 27 Feb, 2017
No Comments
Full transcript of our interview (watch video below) with Mr. Ronald Brown, CEA Managing Director, during the groundbreaking ceremony for the first of four children's homes planned inside the Casa Esperanza of Angels orphanage facility in Tanjay City, last February 24, 2017.
Ronald Brown: This is the groundbreaking ceremony for our first children's home, the first of four proposed children's homes for the Casa Esperanza of Angels facility. We've been planning and preparing for this for three years.
It's very important, it's very exciting, and although you make some progress on the project, this is where … now we know it's really going to make its way out of the ground.
We're hoping the first children's home is completed in three to four months.

After that we'll, hopefully build the first of many cottages, the family cottage. Myself and my wife will move into that as administrators of the operation here and we can then begin accepting children and house parents in the first home.
We hope to, within six months, be operational.
We're very thankful for our donors, our very generous donors. Without them, none of these would happen. We get their constant support and we are encouraged by them following our work on Facebook and our website. We're just very appreciative for their support for this work.
Of course, we continue to need more funding. We have many structures planned for this facility and in order to do that, we need continued funding. We may have enough funds for the first home but after that, we will need continued funding to keep the construction going at this pace.