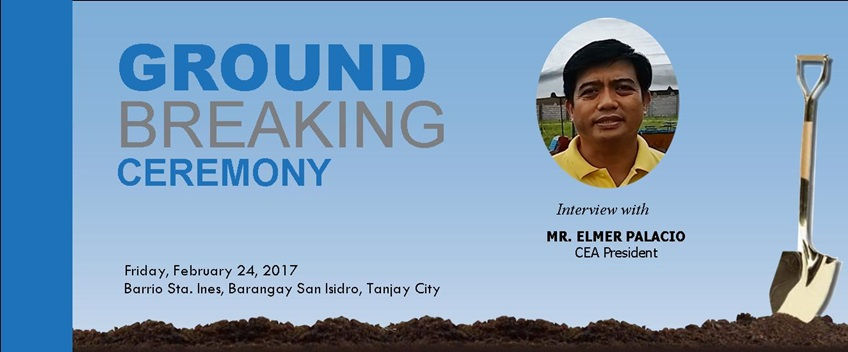 CEA President Elmer Palacio Groundbreaking Ceremony Interview
Date: 27 Feb, 2017
No Comments
Full transcript of our interview (watch video below) with Mr. Elmer Palacio, CEA President, during the groundbreaking ceremony for the first children's house (of four similar structures) planned inside the Casa Esperanza of Angels orphanage facility in Tanjay City, last February 24, 2017.
ELMER PALACIO: Today is February 24, 2017 and this is now the official groundbreaking of Casa Esperanza of Angels Foundation, Incorporated here at Barangay San Isidro, Tanjay, Negros Oriental.
This project or this program is part of the vision of the couple Ron and Gigi Brown.
Now, Casa Esperanza of Angels is a non-government organization focusing on catering to orphans and abandoned kids here at Negros Oriental.
One of the objectives here is taking care of abandoned children, the orphans. And we are so much thankful because through this orphanage, we consider it as one of the partners of our government.

Yes, I'm part of the Board of Trustees, presently [serving] as the president of Casa Esperanza of Angels. So, this is now a reality because it's been three years.
Before, we prayed to God for this project because we've been very concerned about the situation in our country particularly here in the Visayas, in Negros Oriental.
So, we are hoping that with the partnership of the government and the partnership of other people who are with us, as we are on the same page in catering to these orphans.
The DSWD is also considering this kind of program to be part of the non-government organization.
With this, we are so much thankful to God because through Casa Esperanza of Angels Foundation Incorporated, we can also do our part in partnering with this government in helping the orphans, not only here in the Visayas, but also in the whole country, our country Philippines.