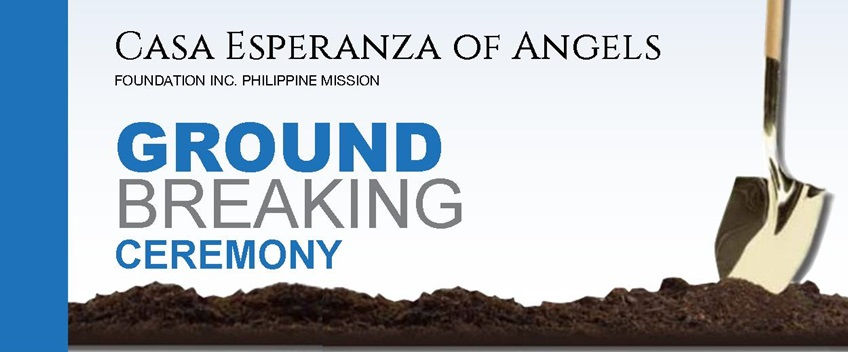 Invitation to CEA Orphanage Facility Grounbreaking Event
Date: 17 Feb, 2017
No Comments
UPDATE (11 March 2017): Casa Esperanza of Angels Foundation – Philippine Mission would like to sincerely thank all our donors, friends, family, and supporters who helped make the groundbreaking ceremony last February 24, 2017 a great success.
Dear friends, donors, and supporters of Casa Esperanza of Angels Philippine Mission,
It is with "thank you" and great excitement that I am writing you!
Because of your generous donations and support of Philippine Mission/Casa Esperanza of Angels Foundation Inc. we have been able to reach another milestone in our project here in the Philippines. While the construction of our exterior enclosure wall has been ongoing since September, 2016 we are now ready to begin construction of our first of four proposed children's homes. We have, just today, obtained the necessary building permits!
We will be having an official "Ground Breaking Ceremony" on Friday, February 24. We apologize for the short notice, as all the necessary elements finally came together to make this event possible. While we realize it is not practical for many of you overseas to travel the great distance to the Philippines for this event, we want to extend an invitation to each and every one of you to this great occasion if by chance you wish to attend.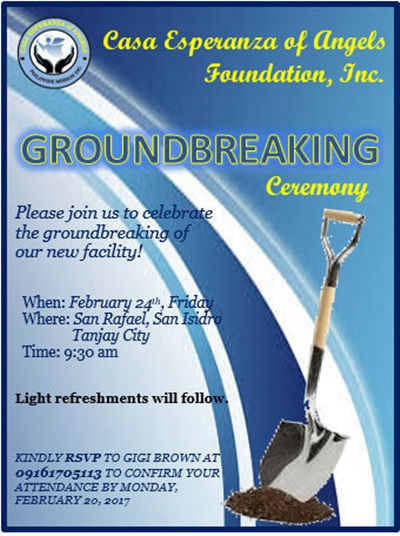 We will also be inviting many local government officials, prominent business people, media, our board members and staff.
Within a few days following the event we will post photos and videos of the event for all those unable to celebrate the day with us on the orphanage property.
Be sure to check our Facebook page: Casa Esperanza of Angels, Philippine Missions, Inc. or our website: https://www.casaesperanzaofangels.com/ for full coverage following the event.
We are very excited to move closer to our goal of becoming operational and thank you all for your generous donations to make this all possible!
If you are interested in attending but need some assistance with travel plans or accommodations, please contact us and we can assist you: ronald@agapeasia.org or —– @hotmail.com.
Our Sincere thanks and God's Blessings to you all,
Ronald & Georgia Brown