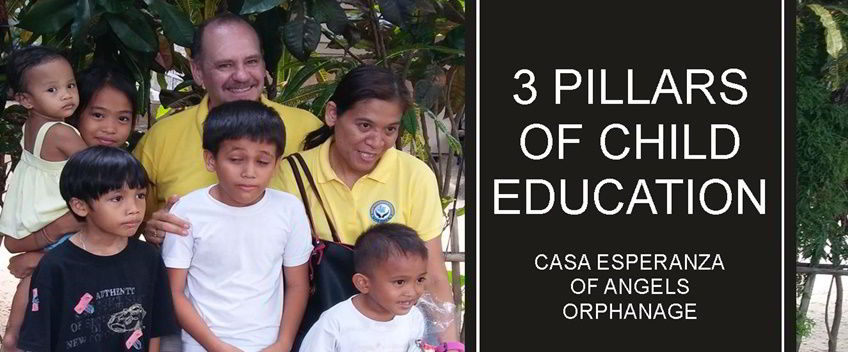 3 Essential Pillars Of Child Education At The Casa Esperanza Of Angels Orphanage
Date: 24 Nov, 2016
No Comments
Like other parents, we also dream that the children under our care at the Casa Esperanza Of Angels orphanage facility will someday grow up to become intelligent, God-centered, well-adjusted, and successful members of society.
In fact, our vision for the Casa Esperanza of Angels orphan care center states:
To provide spiritual, physical, and mental health to orphan, abandoned, and abused children, or those in dire circumstances as well as develop them to be successful contributors to society as a whole in a loving family atmosphere.
Hands-On Approach
We just want our kids to become happy and responsible members of society in the future. To this end, we consider children's education at the orphanage a top priority. As it is, Georgia Brown, co-founder of CEA Foundation is taking a hands-on approach to child education at the facility.
"The children's education in the orphanage is very important to us. My wife, Georgia, will be acting as the education director for the facility," shared Ron Brown, CEA's Managing Director. "She's a retired master teacher with 21 years experience in the Philippine educational system."
The children's education at Casa Esperanza of Angels will stand on three strong pillars: Secular Instruction, Biblical Teaching, and Life Skills Training.
Secular Instructions
Intelligence and mental growth are important for the children at the orphanage. For regular subjects like Mathematics, Social Studies, Science, and the Languages, CEA children who are of the right age will get their instructions from the nearby public kindergarten or elementary school.
We believe house parents will bond with the children better if they're able to provide them tutorial assistance. We see this as part of the dynamics inside the children's homes. We also see public school education for the children as a stepping stone for them to pursue higher education in the future and become successful individuals.
"Long range plans include a school on the facility grounds but initially we will probably send the children to the public education system," explained Ron.
Biblical Teaching
Being a Christian faith-based mission is part of our identity as an institution at Casa Esperanza of Angels. We'd like to impart to our kids the joy of hearing and learning about the stories and lessons in the Bible. We believe this is important to nurture the spiritual health of the kids at the orphan care center.
"We will be providing biblical instruction for the children at the orphanage," according to Ron. "We intend to hire someone qualified for this position who will teach the children, the staff, as well as (other people during) community outreach (activities) in our area."
"Biblical teaching will be based on pure scripture. This way, the children will grow up knowing the Word of God."
Life Skills Training
These skills are seldom taught in school but are absolutely necessary for people to be able to live independently and to be happy in their relationships with other people. Someday, these children under our care will either be adopted or live independent lives as adults. Whatever happens, we want our kids to be equipped with the necessary life skills in order to survive and thrive outside of the orphanage.
These skills can be something as simple as showing common courtesy, empathy, and consideration for others. Or it could be something as practical as money management, grocery shopping, or vegetable gardening. We'll also try to impart high productivity skills like developing good habits, time management, and punctuality.
Ron explains it this way: "Life skills will also be an integral part of a child's education at our facility. Life skills such as common courtesy, self-sustainability, budgeting, and these kinds of things to help the children be a productive part of society."