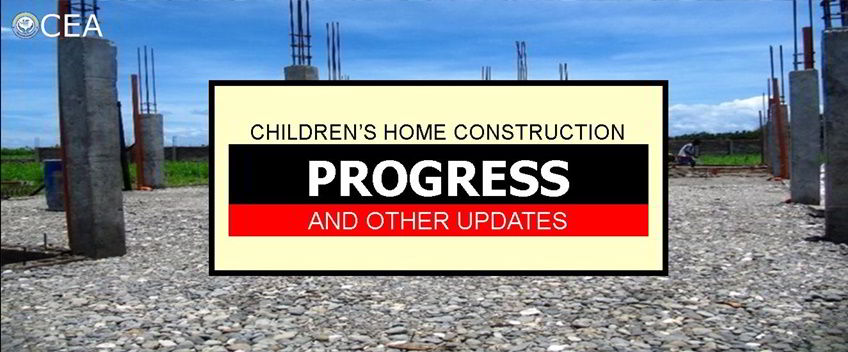 First Children's Home Construction Progress & Other Updates
Date: 21 Apr, 2017
No Comments
Construction Progress At First Children's Home Inside The Orphanage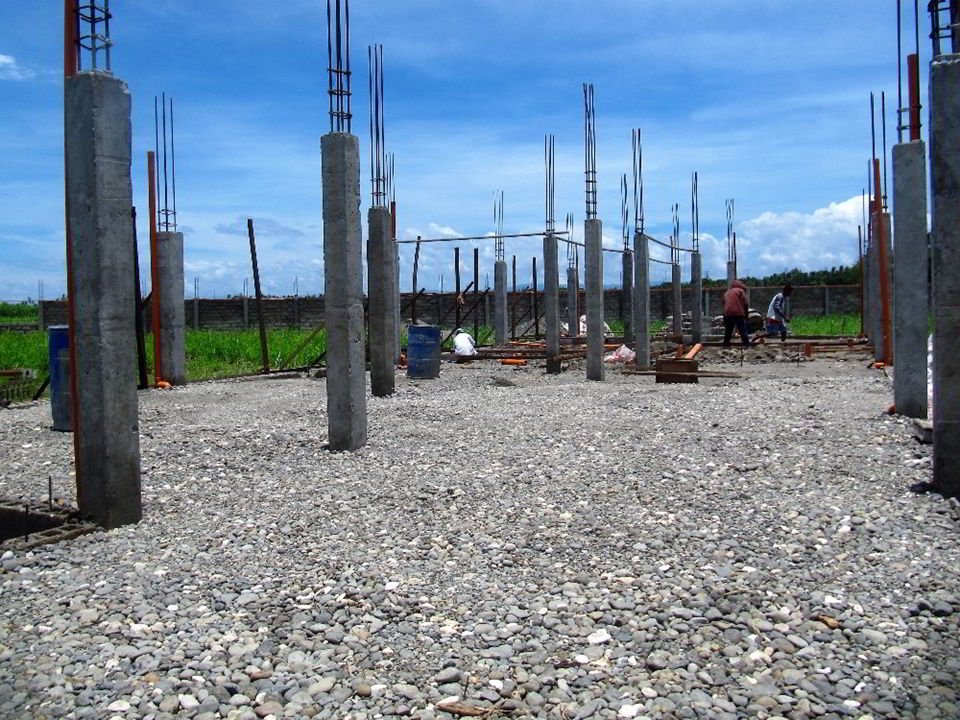 The construction of the first of four proposed children's homes is well underway. We have completed all the foundation work and support columns. We have spent a good deal of time to elevate the structure to counteract the potential threat of flooding during typhoon season, and this has required additional effort for backfill and compaction of the backfill material.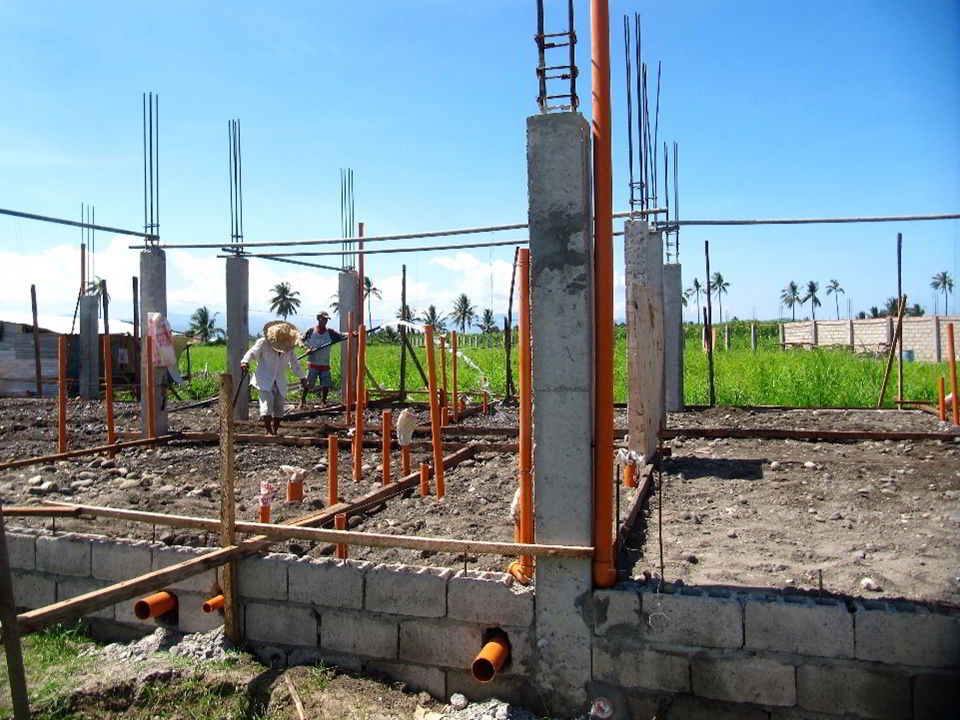 We have installed the rough-in plumbing as well.
We will treat the area for pest control (primarily termites), install a vapor barrier, electrical conduit, and the reinforcement steel grid before pouring the concrete slab this next week. Following that we begin work on the walls and bond beam.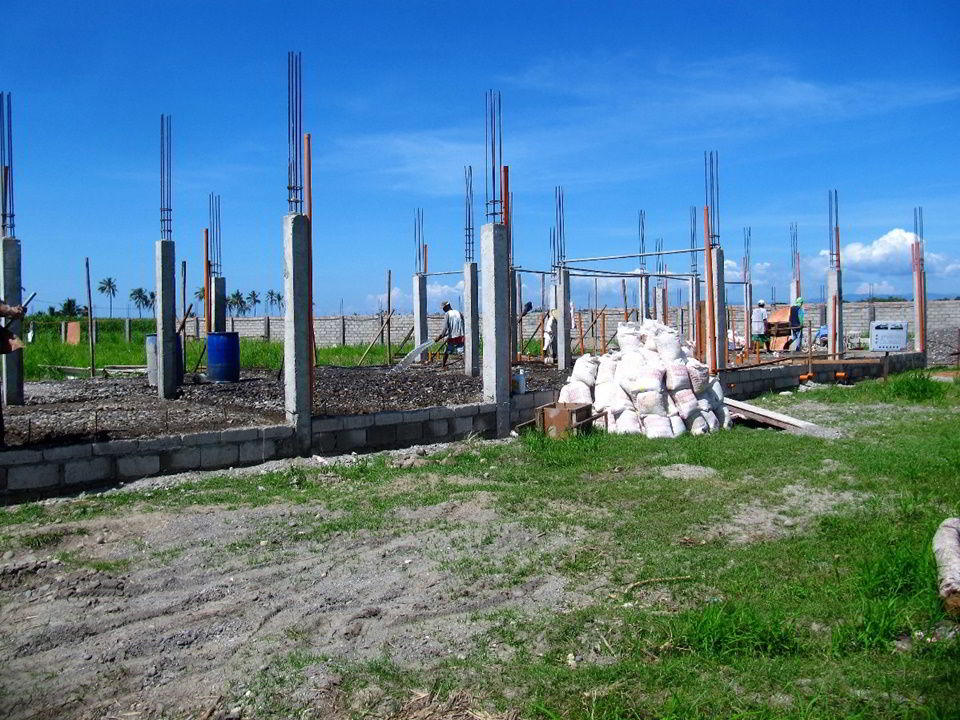 We are confident the time spent on a good foundation will insure that this home will provide shelter for the children for many years to come. We still have other structures to build besides this first home and ask for your financial assistance if you are able to donate towards this work.
Site development plan & architectural renderings
Upcoming U.S. Trip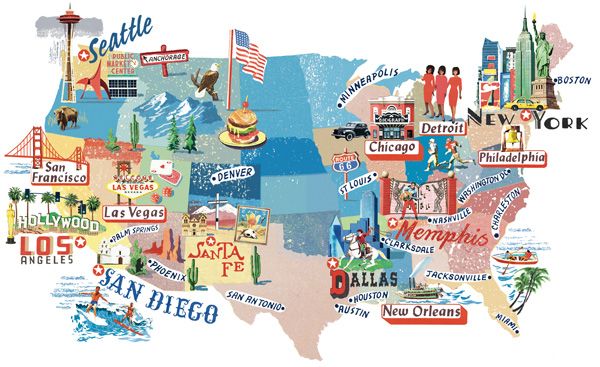 My wife and I will be traveling to the U.S. leaving the Philippines on May 25 and returning on July 8. We are currently working on a tentative schedule to visit various locations and give presentations on our work here.
Please contact us ASAP to see if we will be in your area and can present information about our project. We look forward to discussing the Philippine work and vision of Casa Esperanza of Angels.
What was the Example of Christ for those in Need?
What example did Jesus leave as to what kind of attitude we should have toward those who are in physical need? What commands or examples has he given to his church today in the New Testament concerning benevolence?
There are many instances in Christ's life which demonstrate to us that to be like Jesus or to be Christ-like we will need to be concerned about the physical welfare of others.
JESUS HAD COMPASSION
Jesus was moved with compassion because of the people's needs: "But when he saw the multitudes, he was moved with compassion for them, because they were distressed. . . "(Matt. 9:36). He was concerned that people were hungry: "I have compassion on the multitude, because they continue with me now three days, and have nothing to eat" (Mark 8:2). Jesus then provided food for the people.
JESUS TAUGHT ABOUT CARING
Not only did Jesus show his compassion for others in need but he also taught great lessons on the subject. Perhaps the best known is the story of the Good Samaritan (Luke 10:25-37). Jesus emphasized that the greatest commandment is to love God with all our heart, soul and strength, and the second greatest commandment is like it, to love our neighbor as we love ourselves. Perhaps the most striking lesson that Jesus taught about our responsibility in helping others is found in the picture that he gives of the final judgment: Matt. 25:31- 46.

HELP THE STRANGER
Not only were friends or brethren to be helped, but the stranger as well. These are the exact instructions that are given to Christians in the New Testament church, "Let love of the brethren continue. Forget not to show love unto strangers. . . "(Hebrews 13:1, 2). The apostle Paul wrote to several congregations and instructed them with these words: "So then, as we have opportunity, let us work that which is good toward all men, and especially toward them that are of the household of faith" (Galatians 6:10). The church's responsibility of helping the needy is not, therefore, limited to its own people.
WHAT METHODS ARE TO BE USED?
The Scriptures give us the command and responsibility of helping others but they do not tell us in any detail how to do it. Each autonomous congregation and individual has been left to decide upon their own, how the needs of the needy are to be met. The examples that we have are few.
In Acts chapter six we find that some of the widows were being neglected. The apostles' answer to the problem was to appoint several men to oversee the work of seeing to it that their needs were met. This would be one of the responsibilities of deacons in the church today. In 1 Corinthians 16:1-3, and 2 Corinthians chapters eight and nine we have the example of several men taking up a collection from several congregations to help the poor saints in Judea.
James wrote that Christians are to care for orphans and widows: "Pure religion and undefiled before our God and Father is this, to visit the fatherless and widows in their affliction, and to keep oneself unspotted from the world" (James 1:27). James, however, does not tell us how the local congregation or the individual is to do this; therefore, it is left up to us to do it in the most expedient way.

A MEANS TO AN END
The most important task that the church and Christians render is teaching and the saving of souls. That is its main business. Even benevolence is a means to that end. But it is difficult for a hungry person to study or learn God's will. The church's responsibility is not to feed and clothe the world but to teach the gospel. Jesus' disciples are, however, to be a compassionate people, just as he was. As God says, ". . . we should remember the poor. . ." (Galatians 2:10).
IN SUMMARY
Christ is our example in attitude toward rendering service to others. He taught his disciples to love and have compassion for the unfortunate, and he practiced what he taught. If we are to walk in his footsteps and follow his example, we too must do the same. The church is the body of Christ and he is its head. As members of his body Christians must reflect Christ in their lives, or as the apostle Paul says, ". . . so now also Christ shall be magnified in my body, whether by life, or by death. For me to live is Christ, and to die is gain" (Philippians 1:20, 21); and, ". . . it is no longer I that live but Christ liveth in me. . . " (Gal. 2:20).
In regard to methods of feeding the hungry, clothing the needy, taking care of orphans and widows, little information is given. We are simply told to do it. It must be left up to the decision of the elders of the local congregation just as God intended it. But whatever we do it must be in accordance with the purpose of the church, to reach souls, to teach the gospel, and help its members to grow and mature to be like Christ.
Our Sincere thanks and God's Blessings to you all,
Ronald and Georgia Brown
Tanjay City, Philippines
April 2017 Newsletter
Volume 2 Issue 29
Read the February 2017 and March 2017 issues of this newsletter.