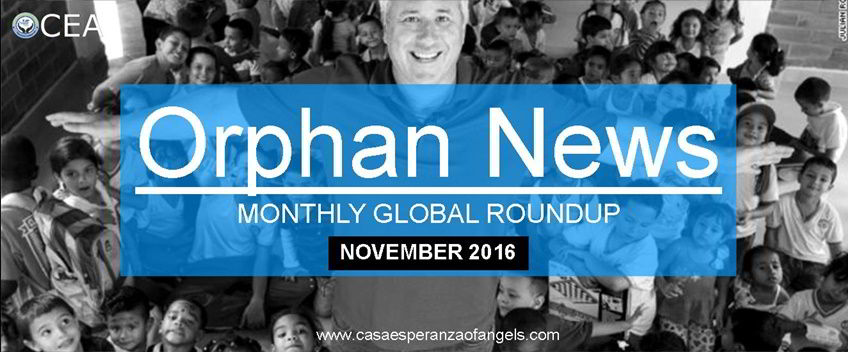 Uncle Magician In The Streets of Colombia And Other Stories – Orphans News – November 2016
Date: 19 Nov, 2016
No Comments
Joliet Craft Fair Supporting Haiti Orphans Grows
The Haiti Orphan Craft Fair held at the Judson Memorial Baptist Church showcased a wide variety of crafts and home-made items for sale like clothes, toys, and household cleaning products. Started as a garage sale by one Joliet resident who wanted to help orphans in Haiti, the community sale these days is bigger and is now officially sponsored by the Judson church.
Local craftsmen, artists, and DIY enthusiasts gather here to sell their wares, paying rent for their spaces and stalls in the fair. All proceeds are collected for the benefit of the children sheltered by the Faith in Action Orphanage in Haiti.
Debbie Filotto, the fair's organizer, remarking on the success of their efforts said, "We kind of made these children our focus. It's grown," she said.
Recovering Former Wall Street Banker Brings Hope And Magic To The Children in Colombia
Former Wall Street Banker Andy Stein from Astoria, Queens is now helping orphans and rescuing children from the streets in Medellin, Colombia. Stein founded the Orphaned Starfish Foundation, a nonprofit that provides IT training to children in orphanages around the world.
His work among the children in the poor neighborhoods of Medellin has earned him the moniker Tio Mago (Uncle Magician). Stein works not just to help the small children but also to provide for the older ones who graduate from the system and had to leave the orphanage at age 18.
"There is magic in the world," Stein told CNN. "You can, with just a little bit, make more of a difference than you can possibly imagine."
Elderly And Poor Relatives Sheltering Haiyan Orphans Need Assistance
In the aftermath of Typhoon Yolanda (Haiyan) that devastated Tacloban City and several neighboring towns in the province of Leyte in the Philippines, 109 children from the province were identified as orphans by the Rapid Family Tracing and Reunification (RFTR) program of the Philippine Department of Social Welfare And Development (DSWD) working in tandem with the United Nations Children's Emergency Fund (UNICEF).
None of those children were ever adopted, according to Ofelia Pagay, head of the Protective Services Unit at the DSWD regional office. Most of them were taken in by relatives who are either financially challenged themselves or are too old to take care of the children much longer.
There's 77-year-old Consolacion Monteroso, for example, who is now taking care of her 10-year old granddaughter Cherry Ann who lost both parents during the storm surge. Clarita Cainong, 70 years old, is now also taking care of her four grandchildren left orphaned by the super storm.
"If the government is willing to give assistance to those who are going to adopt orphaned children, why can't it help us? I have no work or a steady source of income. It would be good if the government will also help me," Cainong told Elmer V. Recuerdo of the Business Mirror.
Walking Alongside Teenage Orphan Graduates In The Ukraine
Prospects are bleak for the older children who graduate from the orphanage systems in Eastern Europe, according to Mission Network News – a third will remain homeless, one in ten will commit suicide before they turn 18, and many will become prostitutes and criminals.
Children who are forced out of the system at age 16 often have no life skills and no means to adapt easily to life outside the orphanage. With nowhere to go and no one to turn to, these children often fall prey to a life of crime, poverty, drug addiction, violence, and prostitution.
Orphan Outreach in partnership with LifePoint Church in Maryland has started the Alpha Life in Ukraine to help provide support and guidance for those kids and help break the "cycle of poverty, abuse, and neglect" victimizing these vulnerable children.
"The most important thing we can do is provide someone who walks alongside them and who is encouraging them and who is helping them make those life choices," Orphan Outreach's Amy Norton told Mission Network News.
Ukraine- Alpha Life Ministries-HD from Orphan Outreach on Vimeo.
Children Rescued From "Orphanage" In Bohol, Philippines
Operatives of the National Bureau of Investigation (NBI)-Bohol and representatives from the Department of Social Welfare and Development (DSWD)-Cebu raided a facility in Tagbilaran, Bohol brazenly operating as an orphanage without the proper government permits and documentation. American nationals Matthew and Dalisay Dwinells and a Filipino assistant, Roslem Zuniug were arrested during the raid. 38 children from the nearby province of Cebu were found inside the unlicensed orphan care facility and were rescued by the authorities.
Atty. Renna Oliva, NBI-Bohol chief, told the Sunstar, "We rescued the children because they have no license to operate as an orphanage as there are certain requirements and guidelines even if their cause is for the welfare of the children."
The suspects were charged with violating RA 7610 for the Special Protection of Children Against Abuse, Exploitation and Discrimination Act and RA 9208 or the Anti-Trafficking in Persons Act of 2003.
Every month, we curate news about orphans as well as inspiring stories of modern-day heroes who tirelessly work to help orphans, abused or abandoned children, and those suffering from extreme poverty and hunger. If you know of anyone whose work among orphans and needy children anywhere in the world exemplifies such commitment, feel free to message us or leave a comment below, we'll try to feature your hero's story in our next news roundup.