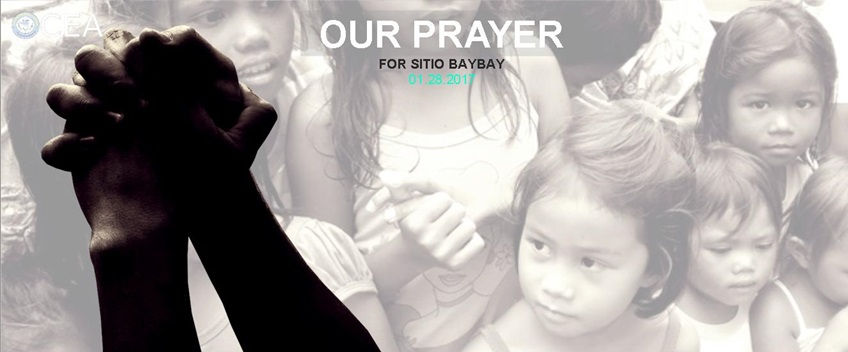 Prayer At Sitio Baybay
Date: 30 Jan, 2017
No Comments
Prayer read by Casa Esperanza of Angels Communications Director Emmanuel Gonot during our Sitio Baybay Community Outreach Activity at the Boardwalk in Tanjay City last January 28, 2017.
Our Heavenly Father, we are gathered here today as one community to share and partake of your blessings.
Among Langitnong Amahan, ania kami karon nagkahiusa sa among pagduaw sa among mga igsoon dinhi sa Sitio Baybay aron pahinumduman ang matag usa kanamo nga kaming tanan imong mga anak, managsoon, sa sulod sa Kristiyanong katilingban.
[Our Heavenly Father, we are united here as we visit our brethren in Sitio Baybay to remind ourselves that we are all your children, brothers and sisters in the Christian community.]
Loving Father, we are forever grateful for all the blessings you have given us these past years, for the good health and the mobility that allowed us come to this place.
Thank you Father for sending to us Brother Ron and Sister Gigi, whose tireless effort and dedication made our visit today possible.
Nagapasalamat kami kanimo among mahigugmaong Amahan sa tanang grasya nga among nadawat ug amo pang madawat tungod kay diha kanimo nagagikan ang tanang maayong butang niining kalibutana.
[We thank you loving Father for all the blessing that we have received and we will continue to receive – all good things in this world emanate from you.]
Heavenly Father, all the good things, all the blessings emanate from you and we are but your servants, your vessels through which all your blessings must flow to the least among our brethren in the Christian community.
Ang kinabuhi sa tawo niining kalibutana, among Amahan, mubo ug walay hinungdan kon dili namo igahin ang among panahon sa pagsilbi sa uban ilabi na sa pinakakabos ug nanginahanglan namong mga igsoon.
[Our life in this world, Father, is short and inconsequential if we don't spend the time serving our fellow men especially those who are most needy among our brethren.]
Lord, please continue to guide and shower your blessings upon our Brother Ron and Sister Gigi and help them complete construction of the CASA ESPERANZA OF ANGELS orphanage facility that will shelter and protect orphans, abused, and abandoned children.
We ask you to bless our dear friends and donors who provided all of these, may they continue to thrive and prosper because in sharing your blessings to this community they have proven themselves to be your righteous stewards and faithful servants.
Father, bless our volunteers and all our friends who are spending their precious time here with us today. May they continue to have the passion, the enthusiasm, and the energy to help and serve others and may all of them be successful in all their undertakings in the future.
Among Amahan, among gihangyo ang imong mga panalangin ug bendisyon alang niining mga bata sa Sitio Baybay ug sa ilang mga pamilya. Hinaut unta nga silang tanan molambo ug modako, makahuman sa ilang pagtuon aron matabangan nila ang ilang mga ginikanan. Ihatag sa ilang mga ginikananan ang imong bendisyon Among Amahan aron malamposon nilang maakatar ug mapadako ang ilang mga anak nga may lig-on nga pagsalig kanimo.
[Our Father, we ask that you bless these children of Sitio Baybay and their families. Let them grow as upright men and women who will someday help their parents. Give their parents your blessing Father so they can take care and guide their children to grow up with strong faith in you.]
We ask you Father to bless this event and may you see us worthy to conduct other community outreach projects in the future.
All these we pray, through Christ our Lord and Savior. Amen.