A New Hope For Orphans In The Philippines – Casa Esperanza Of Angels
Date: 02 Jun, 2017
No Comments
This is the full text (transcript) of the presentation video titled "A New Hope For Orphans In The Philippines: Casa Esperanza Of Angels" we produced for the June 2017 U.S. visit.
INTRODUCTION
Warmest greetings from the Philippines! Thank you all for your interest in Philippine Mission Casa Esperanza of Angels.
For those of you who are just learning about our project or for those of you who have been keeping up with our progress, we would like to let you know we are now moving closer to our goal of opening our orphanage facility Casa Esperanza of Angels here in the Philippines.
MOST RECENT DEVELOPMENTS
In 2016, with the help of our generous donors, we've purchased a 4.94 acre property in Tanjay City in the province of Negros Oriental in central Philippines. This is where we are building our orphan care facility.
Much work has been done since the purchase of the property:
The perimeter security wall surrounding the property is under construction with the front section and entrance gates mostly completed.
The main service road onto the property is functional all the way to the construction site of the first children's home.
We've also drilled our deep well inside the property and now have fresh water supply for the facility.
The vegetable, fruit trees, and ornamental plants that we've been growing these last three years for our landscaping and sustainability projects have been transferred to the site and some are being planted on the property and beginning to bear fruit.
Ron Brown (interview segment): "I've worked in China managing six care centers in the rural areas and the conditions there are even more adverse and difficult. I would like to think that I'm leveraging that experience to better manage our operations here in the Philippines and to make a greater impact on the lives of the children we're trying to help, as well as the community here."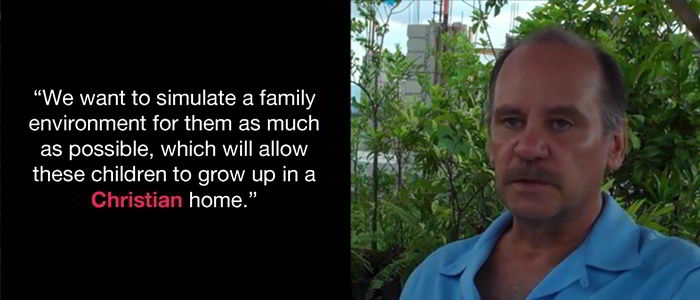 SITIO BAYBAY PROJECT
Last January, with your help and the assistance of our young volunteers, we visited Sitio Baybay, an impoverished fishing village in Tanjay City, and brought much needed groceries and supplies to the residents.
We distributed food packs with various staple items as well as footwear and hygiene kits to 45 children and 19 families during the Sitio Baybay project.
Our volunteers also interacted and bonded with the children in the brief but meaningful encounter we had with the village residents.
Ron Brown (interview segment): "We plan to conduct this type of activity on a fairly regular basis. We want to be relevant to the community. We need to be a positive influence on our neighbors. We intend to make outreach projects a part of our mission because we want to create an impact on the entire community not just on the lives of the children that we will shelter here in our orphanage facility."
GROUNDBREAKING EVENT
This February, we reached another milestone in our work at Casa Esperanza of Angels.
On the 24th of February, we hosted a formal groundbreaking ceremony inside the facility to mark the start of construction on the first of four proposed children's homes for the orphanage. Our local supporters and the leaders of the community attended the event along with provincial and city officials who also expressed support for our project.
Ron Brown (interview segment): "My wife Gigi is a native of Tanjay City where we are building our facility and that accounts for the tremendous support we're getting from the leaders of this community.
"The first building is the first of four proposed children's homes. We intend to house fewer children within these homes rather than a larger quantity of children in an institutional type orphanage. We want to simulate a family environment for them as much as possible, which will allow these children to grow up in a Christian home and lead normal and productive lives. That is the purpose of the family structure design."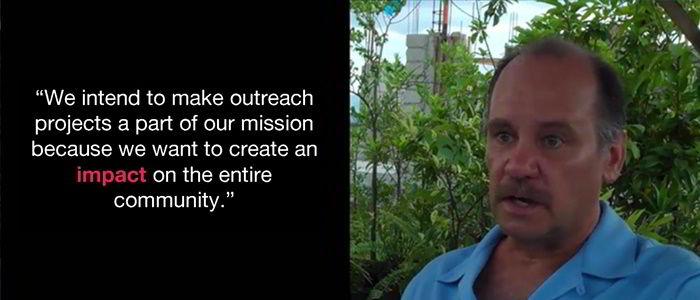 MOST RECENT IMAGES
These are the latest images from the Casa Esperanza of Angels orphanage facility in Tanjay City. Construction is ongoing at a fast pace and we expect the first children's home to be completed within a few more months.
A family guest cottage will be constructed after this building. We will use the family cottage as a temporary residence and administrative office to run the facility. This will allow us to move house parents and needy children into the first home. We will hopefully start operations as soon we've moved in sometime late this year or early next year. The pace of our work depends on our available finances.
CONCLUSION
In the near future, we will be ready to open the doors of the Casa Esperanza of Angels orphanage here in the Philippines. We are looking forward to finally welcoming orphans, abused, neglected, and abandoned children into our care.
Many of you have been with us throughout this journey and you have helped to make this dream a reality. At the moment, we still need your continued prayers for this work and additional funding for the construction of the family cottage necessary to start operations of our facility. Your help, if you are able to donate, is highly appreciated.
We are also seeking people who are willing to make a monthly commitment to support children in our care once we start accepting children into the facility. Any amount you are able to give is greatly appreciated.
May God continue to shower His blessings on us all as we continue to help our neighbors and fulfill the great commission by reaching out to save lost souls.