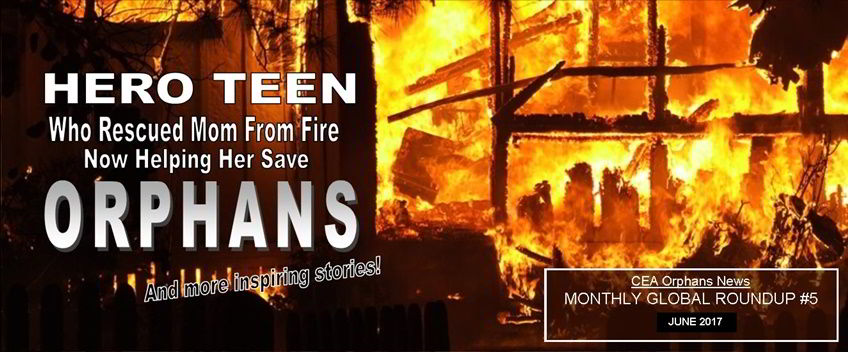 Hero Teen Who Saved Mom From Burning House Now Helping Her Save Orphans CEA-ONR #5
Date: 30 Jun, 2017
No Comments
Teenager Who Rescued His Mom From House Fire Now Helping Her Save Orphans
Last year, Tanner Nale saved his mother's life when he led her out of their burning home in Rardin, Illinois. This year, Tanner, according to the Journal Gazette Times Courier, is accompanying his mother, Reva Nale, on another "rescue" mission – to help orphans in Kazakhstan. Reva, who works with Antares Foundation, a nonprofit helping orphans in Kazakhstan , plans to visit orphaned children in the central Asian country next month and
Tanner will be with her on that trip.
Way to go, Tanner! Keep it up and thank you for being a hero to orphans!
Kidsave Brings Colombian Orphans And American Families Together
Fifty orphaned children from Colombia will be brought to the U.S. by the Kidsave Summer Miracles program to spend time with host families who have signified interest in adopting orphans. The children will be staying in the U.S. from June 30 to August 3, according to a report by ABC2-WMAR Baltimore. The purpose is for these children to find families that they can call their own, for good. "When you introduce them to an American family who values them," remarked Terry Baugh, president and co-founder of Kidsave, "people realize they're amazing human beings."
Best of luck to these kids, we hope you'll finally find the family who will love and treasure you for always.
Georgia Rotary Club Brings Hope To Serbian Orphans
When it comes to helping people, you can either give them fish or you can teach them how to fish. The Thomasville Rotary Club in Thomasville, Georgia, with their successful computer education project in Serbia, appears to take the second option seriously. Spearheaded by Rotarian Walter Gilbert, the IT education project purchased 30 PC units for use in an orphanage in Belgrade, Serbia, according to a report in the Thomasville Times. The purpose was to help train older orphaned children and provide them with a sought-after skill they can rely on to become self-sufficient when they leave the orphanage in the future. About 200 orphans have already been trained using those computers, according to Nenad Sakovik, president of the Belgrade Rotary club.
Well done, Rotarians! We need more of this type of programs that empower orphans to be independent and self-sufficient when they leave the shelter of the orphanage.
De Bruin Family In Iowa Summer Vacations With Orphans In Uganda
To say that the De Bruin family's summer vacation destination is off the beaten path would be accurate. This family from Ankeny, Iowa, according to KCCI News (Des Moines), spends their summer helping orphans in the war-torn region of Teso in Uganda, Africa. The family has been visiting the African country since 2011 to directly manage their orphan care charity Orphans of Teso for a month each year. The head of the family and founder of the nonprofit, Dylan De Bruin, believes that everyone has the power to contribute and make a difference.
"Find one thing that you can go to do and be an impact there," suggested Dylan, "and, it might be small, but if everybody did that, the world will be a completely different place."
Norton Family From Minnesota Fights To Bring Their Boys Home
Katie and David Norton of St. Louis Park, Minnesota, expected the process of adopting children from Ethiopia to be long and convoluted, according to a report by KARE-TV. What they didn't expect when they set out years ago to adopt two orphaned Ethiopian boys was to face a proverbial brick wall – the adoption process was suddenly halted by the government without any explanation. After lobbying strongly with the Ethiopian government and getting help from sympathetic U.S. lawmakers, the entire family will be flying to Ethiopia again to try and fetch their children.
Best of luck to the Norton family! We hope you will be able to bring your boys home this time!
Every month, we curate news stories about orphans as well as inspiring stories of modern-day heroes who tirelessly work to help orphans, abused or abandoned children, and those suffering from extreme poverty and hunger. If you know of anyone whose work among orphans and needy children anywhere in the world exemplifies such commitment, feel free to send us a message us or leave a comment below, we'll try to feature your hero's story in our next news roundup.
You can also read previous editions of our Orphans News Roundup from February 2017 and January 2017.
Feature image: courtesy of Scott Shiffman on Flickr used under Creative Commons License Attribution-NonCommercial-NoDerivs 2.0 Generic (CC BY-NC-ND 2.0).