Another Orphanage … Really?
Date: 16 Feb, 2015
No Comments
The word orphanage often brings with it negative thoughts of children in military type dorm rooms, suffering under the heavy hand of those who treat them with little respect, love, and general lack of concern for them. While there have certainly been places such as this, and some still exist, our vision and plans follow a very different path.
We will set up homes housing a limited number of children in each home. Each of these homes will have house parents, as well as an assistant care giver. Additionally, a licensed social worker will be employed at our facility to oversee the general welfare of the children and assist with their psychological and emotional welfare. The children will be raised in a loving and caring family setting with devoted house parents to these children. They will be cared for as the God given children they are that have value and deserve respect and all the things every human does.
While spiritual guidance and secular book learning will be a big part of the children's education we will also teach them other life skills such as: self sustainability, etiquette, common courtesy, social skills, budgeting / money management, and other practical life lessons they will need to be successful in life.
We also plan to have a Church of Christ meeting place on premises for the children and staff and we will open this to the public as well. We will hire a competent spiritual leader for the development of the children and staff of the facility, as well as outreach to the community.
Also our long range goals include a small clinic and school. If possible, the clinic will also be open to the community for assistance of those who cannot otherwise afford health care. While the school would be primarily for the children under our care, we would also open this up to the public if space allows.
Other opportunities to assist the community will also be in our minds as we develop ways to assist those less fortunate or in dire situations due to natural disasters.
Why help this project?
I once worked with someone that often said and did things other employees didn't normally do. When asked why he did these things he said "Because I can". One's perspective could see that as either positive or negative…..glass half full or glass half empty!
Life in the Philippines is quite different than life in the USA, regardless of the many "western" influences seen here in the Philippines.
Let's compare a few facts: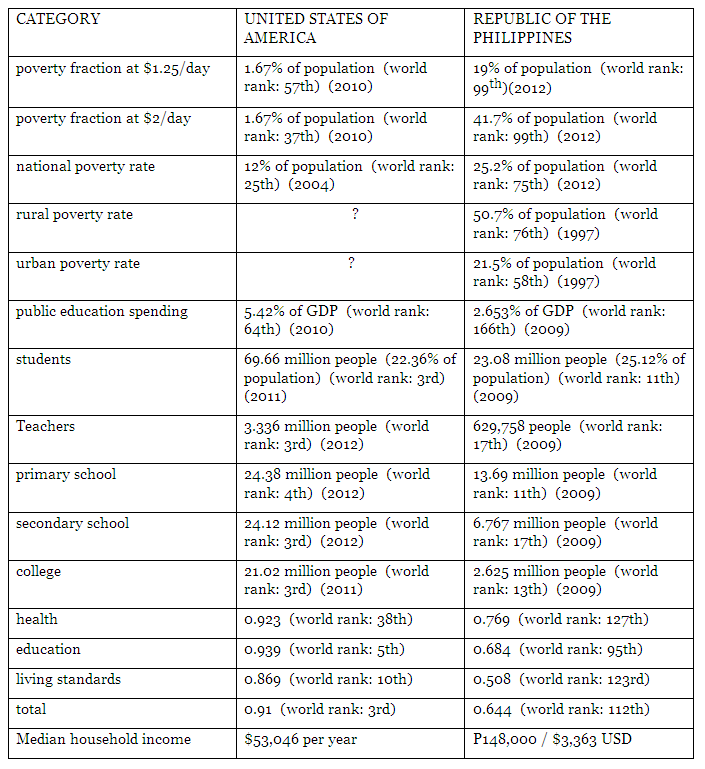 An average American home has an income of $53,046 while an average Filipino home's income is $3,363 … a sizeable difference.
If you ask yourself "why should I help this project to assist orphan children and others in need in the Philippines?" Maybe your answer should be "Because I can!"
James 1:27 ESV
"Religion that is pure and undefiled before God, the Father, is this: to visit orphans and widows in their affliction, and to keep oneself unstained from the world."
Of Recent concern
Excerpt from an article in the Sun Star:
Probe of street children's arrest, detention urged
By Arianne Caryl N. Casas
Friday, January 16, 2015
THE Children's Rehabilitation Center-Southern Mindanao Region (CRC-SMR) on Friday called for an investigation into reports that street children in Manila were being rounded up and detained to keep them out of sight during the visit of Pope Francis.

The center was alarmed by an online article posted on dailymail.co.uk showing photos and stories of children allegedly being caged and chained in government centers.
There is a serious need of help for the children of the Philippines. We intend to be part of the solution … not turning our heads away from this reality. We are praying that you too will join us in this effort!
Ronald and Georgia Brown
Tanjay City, Philippines
Casa Esperanza of Angels
PHILIPPINE MISSION INC.
Volume 1/ Issue 3 Newsletter—–February, 2015