Learning More about the Need for Help in the Philippines
Date: 25 Jul, 2015
No Comments
The Philippines suffer through many natural disasters that we humans have no control over such as typhoons, earthquakes, flooding, and landslides. But the Philippines also suffer with problems that we can do our part to help reduce such as: poverty and care for poor orphans.
The Borgen Project gives the poverty statistics for the Philippines as of July 2013; their findings are accessible with the following link:
Latest Statistics on Philippine Poverty
They state is it unclear why the poverty level is not getting better for the Philippines. However, rapid population growth and unemployment are surely two reasons the conditions linger on. Income inequality is also a problem in the Philippines. Income inequality has multiple roots, and can be molded by a combination of political, social, and cultural forces. Institutional influences such as corruption and political dynasties, as well as education, are things that hinder efforts to break the poverty cycle.
The Human Development Index (HDI) is a composite statistic of life expectancy, education, and per capita income indicators, which is used to rank countries into four tiers of human development. The HDI of the Philippines shows most all areas in the medium to low portions of the scale. Only near Metro Manila and just north of Manila is it considered to be approaching a high position on the scale.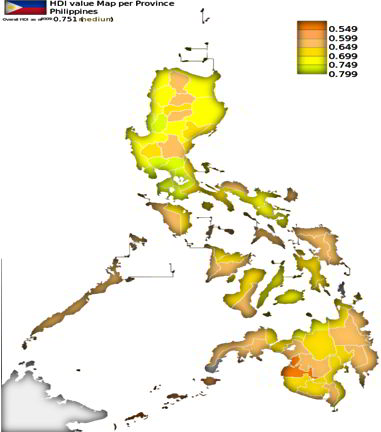 No one knows for sure how many orphans exist in the Philippines … not even government agencies. It is estimated that of the 34 million children under the age of 18, more than 2 million are orphans. The number of children in abusive, neglected, or extreme poverty situations would also increase the number of children in desperate need of help even much higher.
We are planning to establish our facility on the island of Negros. On May 29, 2015, President Benigno Aquino III issued Executive Order No. 183, formally creating the region known as the Negros Island Region XVIII.
Population statistics for Negros Island, as of the 2010 census, are as follows:

If we use a percentage formula, for estimate purposes, we can estimate the possible number of children in need in Negros. With the total population of the Philippines being just over 100 million and an estimated number of orphans in the country to be over 2 million, we can then estimate that there may be 30,000 or more orphans on the island in need of our help based on the total population of Negros being just over 4 million.
In a recent article we are told about the poverty level in this area:
Negros Oriental in top 10 Poorest Provinces in Philippines
By Juancho R. Gallarde (The Freeman)
He states:
The statistics showed Negros Oriental stayed in the top ten of the 16 poorest provinces of the Philippines, and that most of the towns with high poverty incidence were located in the first district, with Bindoy topping the list with 59.9 percent. Dumaguete City was the least poor in the province with only 7.4 percent poverty rating.

Of the 16 provinces, ten were in Mindanao, namely: Lanao del Sur with 67.3 percent poverty incidence, followed by Maguindanao, Zamboanga del Norte, Saranggani, North Cotabato, Bukidnon, Lanao del Norte, Camiguin, Sultan Kudarat and Sulu.

Only two were in Luzon, namely Apayao and Masbate, while the rest were west Samar, Eastern Samar and Northern Samar.
We believe we are choosing a good location for our facility. There are great needs here and we are ready to get to work! Will you also be a part of our project?
If you are able to help or need more information about our project, or the Philippines in general, please feel free to contact us.
Ronald and Georgia Brown
Tanjay City, Philippines
Casa Esperanza of Angels
PHILIPPINE MISSION INC.
Volume 1/ Issue 8
Newsletter – July 2015