Board Member Visit to Negros Oriental
Date: 25 Mar, 2015
No Comments
We were blessed to have a visit from Elmer Palacio who is one of our Board of Directors. He traveled from Cebu, arriving by ferry boat in Dumaguete about 3am! He proceeded to our home and after a few minutes chatting we proceeded to get a little more "shut eye"!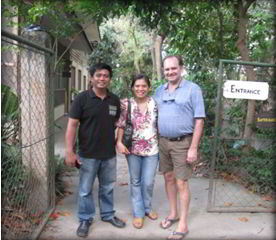 Elmer is married and has 5 boys! His youngest is 4, and eldest is 17. The eldest son is now studying at The Philippine Theological College in Pangasinan, Luzon which is a Church of Christ supported college molding young preachers to save souls here in the Philippines and abroad.
Elmer teaches at Leyte Christian College, and runs a day care center named Theophilus Early Childhood Care and Development Program. He is also active in other programs in partnership with the Babag Church of Christ such as: parenting sessions, feeding programs, medical missions, and tutorial services.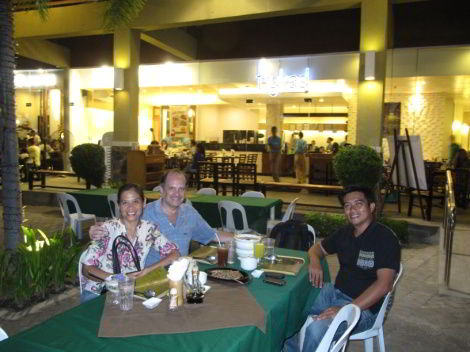 We spent the entire day with Elmer getting to know each other better and enjoying meals together.
We showed Elmer around Silliman University. It is the first American university in the Philippines and the entire Asian continent.
The university is named after Dr. Horace Brinsmade Silliman, a retired businessman and philanthropist from Cohoes, New York who gave the initial sum of $10,000 to start the school beginning from an elementary school.
From the University website it states:
"Dotted with over 300 acacia trees, the Silliman campus is uniquely embraced in between views of the Cuernos de Negros mountains in its background and the Visayan sea at its frontage. The 62-hectare campus offers patches of greens on where personal relationships are nurtured, spiritual nourishment facilitated, and the concept of quality student life redefined."
This university is the Alma Mater of my wife and could be where some of our orphan children will continue their education in years to come.
Since Elmer is still continuing his education he felt very blessed to become aware of the resources of the Silliman library. He hopes this can assist him as he is currently finishing his post graduate degree in Public Administration.
Elmer left late that evening to return home to Cebu and his family. We are very thankful for his willingness to be a board member and supporter of our efforts here in this work. He encouraged us and blessed us with his visit.
Thank You, Elmer. May God bless you and your family!
What's Next for Us?
We continue to work on the documents needed to file for incorporation here in the Philippines and are close to completion. We still need additional funding to meet the financial requirements necessary to file for incorporation. If you are able to help us in this effort, your assistance is greatly appreciated!
I will personally be focused on getting my Permanent Resident Visa in the coming weeks that will allow me to stay (with relative ease) and legally work here. This process will take several weeks including trips to the island of Cebu which lies to the east of Negros Island.
Following the marriage of my wife's brother on May 2 we plan to visit the US by way of China. We have a couple of things we need to tend to in China and then my wife and I will be coming to the US … this will be the first visit to the US for my wonderful wife!
Once we file for incorporation we will be searching for property for our Mission facility. A minimum of 1 hectare (2.5 acres) will be needed. If we are able to purchase a larger piece of property we will be better suited to meet our short and long range goals. While the orphanage buildings will be our first priority we also would like to later add a small school and clinic.
We will also be seeking out sponsors for the various buildings we will need to construct. Our five year plan calls for construction of the most essential buildings in the first year to begin operation and additional buildings in the two years to follow. If you are interested in the sponsorship of a building, please let us know.
Of course, we are also seeking sponsors for the children that will reside at our facility. These will be the special souls and focus of our work. They will be raised in a beautiful loving environment with all the support and encouragement to achieve success.
An inspirational verse for raising the children can be as our Board Member Elmer shared with us that they use as a guide in their day care:
Luke 2:52
And Jesus grew in wisdom and stature, and in favor with God and man.
We too desire this for the orphan children we will care for at Casa Esperanza of Angels!
Ronald and Georgia Brown
Tanjay City, Philippines
Casa Esperanza of Angels
PHILIPPINE MISSION INC.
Volume 1/ Issue 4