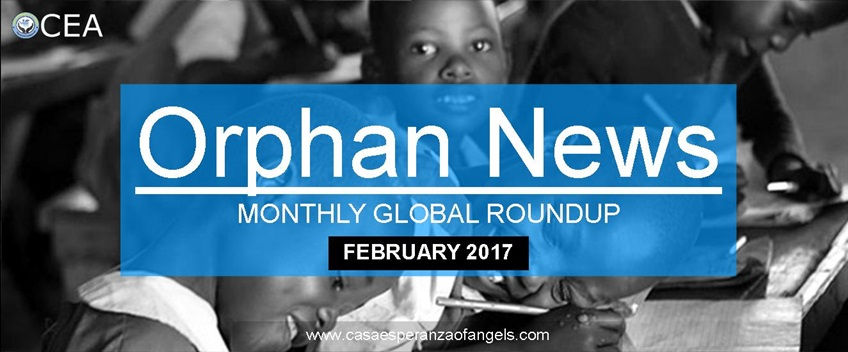 NFL Superstar Raffles Off Super Bowl Ring To Build Orphanage And Other Stories
Date: 15 Feb, 2017
No Comments
Former Patriots Star Sells His Championship Ring To Help Orphans
An American radio talk show host and former National Footbal League superstar recently donated one of his championship rings to help support an orphanage in Thailand. Former New England Patriots safety Je'Rod LePatrick Cherry raffled off his 14-karat white gold championship ring (Super Bowl XXXVI) netting $180,000 that he donated to several charities, including Asia's Hope, a Christian organization helping orphans in Thailand, Cambodia and India. Asia's Hope used the money they received from Cherry for the building of an orphanage for hill tribe children in the Doi Saket district of northern Thailand.
Read more about Je'Rod Cherry's inspiring story to help orphans on ESPN
Miss Universe Contestants Take Filipino Orphans To Lunch In Manila
Candidates of the recently-concluded 2017 Miss Universe Beauty Pageant in Manila took orphaned girls to lunch during their two-week stay in the Philippine Capital. Contestants from 24 countries, including Australia, Barbados, Brazil, British Virgin Islands, Canada, China, Colombia, Dominican Republic, France, U.S.A., and the Philippines each escorted an orphan from the Concordia Children's Services to eat meals provided by Jollibee restaurant, a favorite fast food chain among Filipino children. The Concordia Children's Services is an orphan care facility catering to abandoned and neglected children in the Sta. Mesa district of Manila.
Take a look at the Miss Universe beauties dining with orphans in the Philippines
U.K. Neighborhood Artists Knit Teddies To Welcome Orphans in Africa
A group of artists in the U.K. are knitting teddy bear stuff toys to be given as welcome gifts for orphan girls in Kenya. The group, headed by local portrait artist Mandy Ellis Voisey, are creating the teddies for the girls who are coming to live at the Ngoingwa Centre in Kirinyaga, Kenya. The group is asking for assistance to ship the teddies to Kenya and for supplies of wool. Interested charity groups may also contact them to request for a batch of teddies and other knitted products.
Read more about the teddy-knitting artists at the Torquay Herald Express
Cyprus Volunteers Climb African Peak To Help Kenyan Orphans
Seven volunteers from Cyprus will ascend Mount Kenya, the second highest peak in Africa, during their visit to the Makarios Children's Home in Kenya. Working with Sophia Foundation for Children, the volunteers are visiting the country in a two-week trip dubbed "From Cyprus to Kenya". The objective is to fully document the trek and produce a film to highlight the situation of orphans in Kenya and encourage more people from Cyprus to donate and help alleviate their plight.
Read more about the Cyprus Volunteers at the Cyprus Mail
British Dentist Who Helped Pakistani Orphans Now A Strong Advocate Of Volunteerism
A dentist in the U.K. who recently visited and helped more than 200 orphans in Pakistan embarked on an advocacy to encourage more people to do volunteer work for orphanages and other charities. Elton Head Road dentist, Dr. Zohaib Khan, visited the Kashmir region in Pakistan on a trip with fellow dentists arranged by the Dental Aid Network (DAN) nonprofit. "People don't realise how they can help and be it in small ways or trips. It is really incredible to volunteer," remarked Dr. Khan.
Read more about this inspiring story at the Saint Helen Star
Orphanages Contribute to the Well-Being Of Orphans, Study in Rwanda Observes
University of Helsinki doctoral student Tehetna Caserta recently published a dissertation research highlighting the impact of living conditions on Rwandan orphans. Caserta, who's study involved about 400 orphans living in varying conditions observed that those orphans living in orphanages with access to daily meals and schooling were more emotionally healthier than their peers who were living under more challenging conditions. Rwanda had one of the worst orphan problems in Africa with over one million orphans as it emerged from the genocide of the 1990s and the AIDS epidemic in Africa.
Read more about this story at the Science Daily
Casa Esperanza Of Angels Successfully Conducted Community Outreach Service
Our Sitio Baybay Community Outreach Project last Saturday, January 28, 2017 went without a hitch and we were able to distribute food, gift packs, footwear, and grocery packages to the children and their families in this impoverished Philippine fishing village. The event that benefited 45 children and 19 families took place at the popular Boardwalk location in Tanjay City
Read the Sitio Baybay Project Full Report
Every month, we curate news about orphans as well as inspiring stories of modern-day heroes who tirelessly work to help orphans, abused or abandoned children, and those suffering from extreme poverty and hunger. If you know of anyone whose work among orphans and needy children anywhere in the world exemplifies such commitment, feel free to message us or leave a comment below, we'll try to feature your hero's story in our next news roundup.
Read inspiring stories about orphans and the people helping them from January 2017 and December 2016.