Ron and Georgia's Travel to the USA
Date: 14 Feb, 2016
No Comments
We have now returned to the Philippines after having spent a month in the US. We spent time in Atlanta, GA., Dallas, Quinlan, and Greenville, TX. fellowshipping with and meeting many individuals. We finalized some banking issues for Philippine Mission and talked with many supporters of our work here in the Philippines.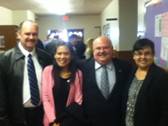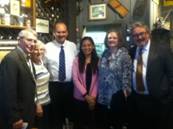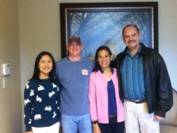 We want to thank everyone in the US for their hospitality and support! A special thanks to Leigh Ann Dotson for housing and feeding us during much of our stay!
What's next for us?
We are now working on setting up the bank account for Casa Esperanza of Angels Foundation, Inc. now that we have our incorporation papers. We are also actively searching for property for the location of our facility. We also hope to purchase our first foundation vehicle to assist us with travel to view potential properties, later use during the construction phase, and eventual use when our facility is operational.
We also now have a Face book page: Casa Esperanza of Angels, Philippine Mission. Visit and Like our page to keep updated on our progress! We will also have a webpage link in the near future.
Negros Island, Philippines
Although government officials do not accurately know the number of orphan, abused, or neglected children here on Negros it is estimated as many as 2 million in all of the Philippines. Many children in larger cities are "street children".
From the Wikipedia website:
According to a 1998 report titled "Situation of the Youth in the Philippines", there were about 1.5 million street children in the Philippines.

The approximate numbers of street children in the different districts of the Philippines are: Manila (3,266), Quezon (2,867), Caloocan (1,530), and Pasay (1,420).

Regional numbers are:
•    Luzon regional totals: 1,557 (highly visible), 22,728 (estimated total)
•    Visayas regional totals: 5,291 (highly visible), 40,860 (estimated total) and
•    Mindanao regional totals: 22,556 (highly visible), 138,328(estimated total).
Approximately 70% of the children are boys.
Defining Filipino street children:
According to the "A Better Life" foundation, there are three different categories of street children:
•    Children on the streets make up approximately 75% of the street children in the Philippines. They work on the streets but do not live there. They generally have a home to return to after working, and some even continue to attend school while working long hours on the streets.
•    Children of the street make their homes on the street. They make up 25%-30% of the street children in the Philippines. They often create a sort of family with their fellow street children. Some of them still have family ties, but do not visit them and some even see these ties as bad.
•    Completely abandoned children have no family ties and are entirely on their own for physical and psychological survival. They make up approximately 5%-10% of the street children in the Philippines.
These children, and many others, are in need of our help. This is our mission! Please contact us if you too would like to be a part of this work!
Ronald and Georgia Brown
Tanjay City, Philippines
Casa Esperanza of Angels
PHILIPPINE MISSION INC.
Volume 1/
Newsletter – February 2016