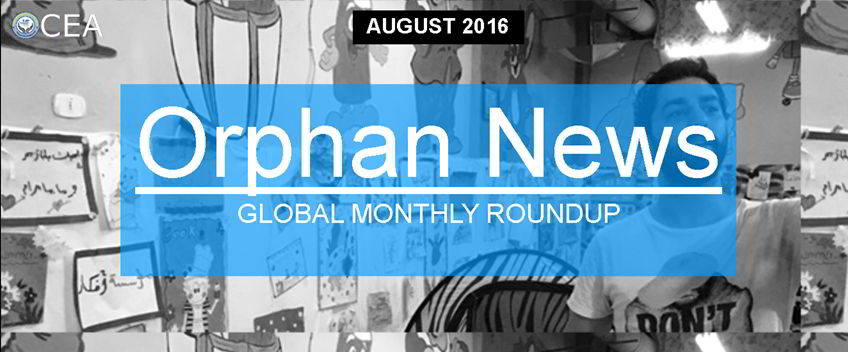 Orphans News Monthly Global Roundup – August 2016
Date: 05 Sep, 2016
No Comments
From adults cynically stealing food from orphans in Russia to soldiers rebuilding an orphanage in Lithuania and Babe Ruth's disappearing bat, these are August 2016's stories about orphans worldwide. The work to shelter and care for orphans continues.
U.S. Soldiers Help Renovate Orphan Facility in Lithuania
Members of the U.S Armed Forces stationed abroad are ambassadors in their own right and the good deeds they do in the host countries directly reflect on how the U.S. is perceived by our friends and allies. This was proven once again just this August by personnel from the U.S. Army 7th MSC's 457th Civil Affairs Battalion out of Longare, Italy and the 375th Engineer Company out of Huntsville, Alabama. Working with soldiers from the Lithuanian Armed Forces and contractors, the American soldiers helped rebuild a fence and some structures in an orphanage in Siauliai, Lithuania, according to a report in the official U.S. Army website.
Orphans And Foster Families Build Community In Russia
A novel way of building support for orphans and the families who shelter them is currently underway in Russia, according to a recent BBC report. Orphans and abandoned children now live with potential foster families in a community just outside Moscow – an arrangement that's quickly spreading the idea of fostering in the country. Orion village is essentially an experiment to help promote fostering among Russians in a bid to decongest the severely overcrowded orphanage facilities in the country. The government is starting to provide support to the initiative although the ban on adoption and fostering of Russian orphans by U.S. nationals is still imposed.
Orphans Went Home Hungry After Adults Ate The Cakes Promised To Them
Orphans in the city of of Yakutsk in Russia were sorely disappointed when they were left without any cake after having been promised the treat by city officials, according to a report by the Medusa Project. The incident happened during the Russian Flag Day celebrations in the city and was blamed on organizers who scheduled the cake party for the orphans close to a bike race that finished earlier than expected. Yakutsk (population: 269,000), often dubbed as the coldest city on earth, is located about 280 miles due south of the Arctic Circle in the Sakha Republic of Eastern Siberia, a region under the Russian Federation.
August 23, 2016″>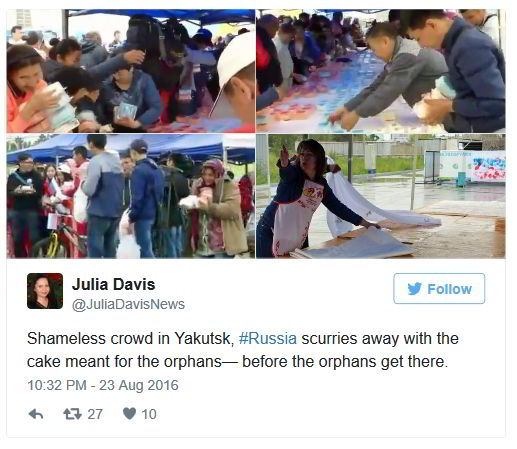 Aleppo's Underground Orphanage Continues To Shelter Syrian Orphans In This Besieged City
The Moumayazoun (Outstanding Guys) orphanage in the war-torn Syrian city of Aleppo continues to be an important sanctuary to the few dozen orphans under its care, according to a report by Emma Graham Harrision of The Guardian. Managed by Asmar Halabi and his wife, along with a dedicated team of 20 or so individuals, the orphanage is the only refuge for orphans and abandoned children in this city. Since the conflict in Aleppo intensified, the orphanage had been moved to underground quarters to protect the children and staff from aerial bombardment and shelling conducted by Syrian government units and their Russian allies, according to the report.
Thomas Rhett And Friends For 147 Million Orphans Happening On October 4 in Nashville
Country music singer and songwriter Thomas Rhett, the artist behind chart-busting hits like "It Goes Like This", "Get Me Some of That", and "Make Me Wanna", is scheduled to host a charity concert in Nashville, TN to benefit orphans worldwide. Thomas Rhett And Friends is happening in October 4 at Nashville's The Old School. The concert features acoustic performances by Rhett and other artists in support of the 147 Million Orphans charity. A limited number of tickets to the event were auctioned off to the public last Saturday, August 27.
Casa Esperanza of Angels Acquires Land In Tanjay City
Our very own nonprofit, Casa Esperanza of Angels Foundation, Inc. is set to formally receive the title to the 2-hectare (4.94 acres) property from the government tax agency in Dumaguete City, Philippines. The property is earmarked for the building of a modern orphanage facility to help care for the fast rising number of orphans in the province of Negros Oriental. Visit our Press Room for more information.
Babe Ruth Bat Given To Armenian Orphans Still Missing After 96 Years
For those of you who support orphans and love baseball, here's an interesting piece of baseball history and a bit of a detective story. In 1920, baseball legend Babe Ruth was reported to have donated a prized bat to be auctioned in support of orphans and survivors of the Armenian Genocide in 1915. The bat was supposed to have been personally turned over by The Big Fellow to a representative of a charity supporting Armenia refugees at the time but there are no records of the auction or any information of the current whereabouts of this incredibly valuable baseball memorabilia.
Read November 2016 orphans' stories from around the world.